Freshwater Test Kits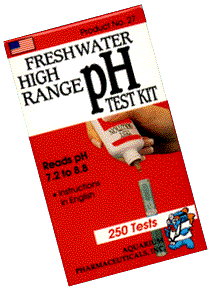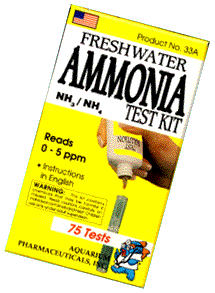 Which Test Kits Do I Buy?
By Richard Renshaw

Pictured above are the two test kits I recommend every Koi pond owner should have.
I recommend you buy the Aquarium Pharmaceuticals freshwater pH and Ammonia test kits. I have used other test kits. Paying more money does not always give you more accurate results.
The Aquarium Pharmaceutical test kits are;
fairly accurate

not expensive

easy to use

There are two Aquarium Pharmaceuticals pH test kits to choose from. Aquarium Pharmaceuticals makes a Regular pH test kit (Blue box) and a High Range pH test kit (Red Box). The High Range pH test kit is a better choice if your tap water measures about 7.6 - 8.2. The reason is the center of the measuring scale for the Regular Blue Box kit is 7.0, and the center for the the High Range Red Box kit is 8.0.

The Aquarium Pharmaceuticals Ammonia test kit's Ammonia test results color chart lowest reading is .5 - 1 PPM. Although this is a bit higher than we would like, it is easy to see and estimate Ammonia readings in the .2 - .3 range. I look for any color change to my sample after adding the Ammonia test solution.

For more information: See Dr. Johnson's article on Water Quality for Beginners: pH and Ammonia.

Return to Koi Disease Information

Return to Koi.Net Index

Copyright © 1996-2013, Richard Renshaw, Revised February 16, 2013