The least expensive high quality

OPTICAL CONNECTOR PRODUCTS
available in America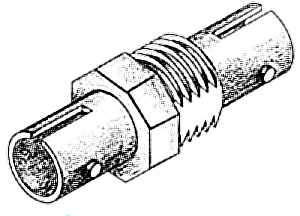 Manufacturer's
U.S. Indicative Pricing

(In small quantity. Significant volume discounts available)
Optical Connectors



Optical Connectors

Part#           Ferrule   Housing    Fiber   Price*

ST-125-MM       ceramic   bronze     MM      1pc $1.50
ST-125-SM       ceramic   bronze     SM      1pc $3.05

FC/PC-125-MM    ceramic   bronze     SM      1pc $3.10
FC/PC-125-SM    ceramic   bronze     SM      1pc $3.35
FC/APC-125-SM   ceramic   bronze     SM      1pc $6.50

SC-125-MM       ceramic   plastic    MM      1pc $1.99
SC-125-SM       seramic   plastic    SM      1pc $3.10
SC/APC-125-SM   ceramic   bronze     SM      1pc $6.50

SC-Clip                   plastic            1pc $0.25



Mating Adapters

Part #      Alignment Sleeve      Housing            Fiber      Price*

ST-AM       bronze                bronze             MM         1pc $1.00
ST-AS       ceramic               bronze             SM&MM      1pc $2.75
FC-AS       ceramic               bronze, square     SM&MM      1pc $2.95
FC-D-AS     ceramic               bronze, D-hole     SM&MM      1pc $2.75

SC-AM       bronze                plastic, simplex   MM         1pc $0.95
SC-AS       ceramic               plastic, simplex   SM&MM      1pc $2.35 
SC-D-AM     bronze                plastic, duplex    MM         1pc $2.05  
SC-D-AS     ceramic               plastic, duplex    SM&MM      1pc $4.05


Variable Attenuators

ST Var Att          1pc $79
FC Var Att          1pc $79
FC/APC Var Att      1pc $81


Fixed Adapter-Type Attenuators

ST-dB               1pc $19
FC-dB               1pc $19
SC-dB               1pc $19


Bare Fiber Adapters

B-ST-125            1pc $49
B-FC-125            1pc $49
B-SC-125            1pc $51


Hybrid Mating Adapters

FC-ST-AS                $5
SC-ST-AS                $5
SC-FC-AS                $5



Female-to-Male Adapters

FM-FC-A         SM                      1pc $55
FM-ST-A         SM                      1pc $55
FM-FC-C         MM                      1pc $35
FM-ST-C         MM                      1pc $35
FM-ST-FC-A      hybrid SM (ST female, FC male)  1pc $59
FM-FC-ST-A      hybrid SM (FC female, ST male) 1pc $59
FM-ST-FC-C      hybrid MM (ST female, FC male) 1pc $37
FM-FC-ST-C      hybrid MM (FC female, ST Male) 1pc $37


*Prices subject to change without notice.
For a specific request for quotation, use Customer Fast Reply
Place An Order On-Line
Offering fiberoptic connector products of improved industrial quality at the best prices possible, PT Fiberoptics, Inc. provides convenience of on-line ordering.
To save your time and money, just press the button below.