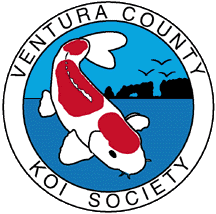 ---
---
---
---


Ventura County, California, USA
Is There A Pond In Your Future?
---
Members of the Ventura County Koi Society either have a pond or are contemplating building one and have joined our club to solve their problems with green water, sick fish, and filtration plus a desire to find out more about their Koi.
We meet on the second Saturday of each month at a member's home and sponsor a program associated with some aspect of Koi and pond keeping. Potential programs include discussions and prime information on:
Pond Construction

Pumps & Plumbing

Biological Filtration

Koi Classification

Koi Medication

Plants & Landscapes

Fish Buying Field Trips

etc, etc, etc...
Join us in these plus social programs and learn how to enjoy your pond.
---
For More Information:
Call Mary Oxman - (805) 499-2460

Visit KOI.NET Home Page.
---
Created by Richard Renshaw>
---
This page is sponsored by KOI.NET.